"Heaven is not here, it's There. If we were given all we wanted here, our hearts would settle for this world rather than the next. God is forever luring us up and away from this one, wooing us to Himself and His still invisible Kingdom, where we will certainly find what we so keenly long for." – Elisabeth Elliot
Lord, Thou knowest all the hunger
Of the heart that seeks Thee now;
How my soul hath long been craving… Continue reading →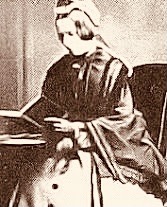 A par­ty of young friends ov­er whom I was watch­ing with anx­ious hope at­tend­ed a meet­ing in which de­tails were… Continue reading →
Many crowd the Savior's kingdom,
Few receive His cross;
Many seek His consolation,
Few will suffer loss.
For the dear… Continue reading
From prayer that asks that I may be
Sheltered from winds that beat on Thee,
From fearing when I should… Continue reading →
Say not–Is the thing possible?
But–God is omnipotent!
Say not–Look what I'd lose!
But–See what I'd gain!
Say not–Have I… Continue reading →
In my distress I sought the Lord
When naught on earth could comfort give,
And when my soul these things… Continue reading →
Come, ye sinners, lost and hopeless,
Jesus' blood can make you free;
For He saved the worst among you,
When… Continue reading →
In love He redeemed me, the Savior divine,
I'm trusting in Him, life eternal is mine;
Unworthy the least of… Continue reading →
They were at their wits' end. Then they cried out to the Lord in their trouble, and he brought them… Continue reading →
With tearful eyes I look around;
Life seems a dark and stormy sea;
Yet, midst the gloom, I hear a… Continue reading →
"Stop reading the Bible like it's just black print on white paper. These women were real." – Janice McBride
Copyrighted works are the property of the copyright holders. All works are shown free of charge for educational purposes only in accordance with fair use guidelines. If we have inadvertently included a copyrighted work that the copyright holder does not wish to be displayed, we will remove it within 48 hours upon notification by the owner or the owner's legal representative.