"Bare heights of loneliness…a wilderness whose burning winds sweep over glowing sands, what are they to HIM? Even there He can refresh us, even there He can renew us." – Amy Carmichael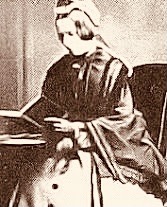 A par­ty of young friends ov­er whom I was watch­ing with anx­ious hope at­tend­ed a meet­ing in which de­tails were… Continue reading →
"The king's business required haste" (1 Sam. 21:8). Yet there is no other business about which average Christians take it… Continue reading →
There is certainly enough in our Savior, if we only open our eyes that we may see it, to solve… Continue reading →
(From her devotional book entitled Royal Bounty.)

"Now no chastening for the present seemeth to be joyous, but grievous: nevertheless,… Continue reading →
'The secret of the Lord is with them that fear Him.' -Ps. XXV. 14.
I.
JUST to let thy Father… Continue reading →
"Seemeth it but a small thing unto you, that the God of Israel hath separated you from the… Continue reading →
Frances Ridley Havergal (1836-1879) exhorts in this article to careful watchfulness over what we feed our minds on in… Continue reading →
Author –Elizabeth P. Prentiss, 1818-1878
Composer –William H. Doane, 1832-1915
Tune Name –"More Love to Thee"
"And this I… Continue reading →
"The king said, Wherefore wentest thou not with me?" (2 Samuel 19:25).
"With me!" (John 17:24). To be… Continue reading →
"One does not surrender a life in an instant. That which is lifelong can only be surrendered in a lifetime." – Elisabeth Elliot
Copyrighted works are the property of the copyright holders. All works are shown free of charge for educational purposes only in accordance with fair use guidelines. If we have inadvertently included a copyrighted work that the copyright holder does not wish to be displayed, we will remove it within 48 hours upon notification by the owner or the owner's legal representative.