"O beloved friends, there is a life on wings. I feel the streams of His life fill me and permeate my mortal frame from my head to my feet, until no words are adequate to describe it. I can only make a few bungling attempts to tell you what it is like and ask the Lord to reveal to you the rest. May He reveal to you your inheritance in Christ Jesus so that you will press on and get all that He has for you." – Carrie Judd Montgomery
We all know how sensitive flowers are to atmosphere. That is why we have greenhouses. But are not children a… Continue reading →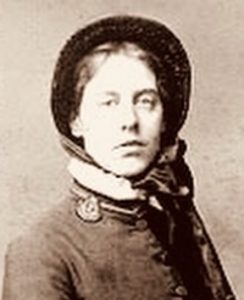 It almost seems superfluous to say that in order to train children one must love them. To succeed in any… Continue reading →
I cannot give it up,
The little world I know!
The innocent delights of youth,
We often speak of how, because of sin,
Mankind has suffered sore;
But have you ever thought of this, my friend,
That GOD has suffered more?
When I stand at the Judgment Seat of Christ
And He shows me His plan for me,
The plan of… Continue reading →
You are now ready to know about another aspect of prayer that I will simply call the prayer of faith… Continue reading →
The purer an element is, the simpler the structure of that element. It follows, therefore, that the more extended is… Continue reading →
The life hid with Christ in God has many aspects, and can be considered under a great many different… Continue reading →
The Joy Of Obedience Is Foremost
LONG AGO I CAME ACROSS this sentence: "Perfect obedience would be perfect happiness,… Continue reading →
"Dear soul, abandon yourself to the guidance of your divine Master and shrink from no surrender for which He may call…your light shall shine so brightly that men seeing, not you, but your good works, shall glorify, not you, but your Father which is in heaven." – Hannah Whitall Smith
Copyrighted works are the property of the copyright holders. All works are shown free of charge for educational purposes only in accordance with fair use guidelines. If we have inadvertently included a copyrighted work that the copyright holder does not wish to be displayed, we will remove it within 48 hours upon notification by the owner or the owner's legal representative.