"It is God to whom and with whom we travel, and while He is the end of our journey, He is also at every stopping place." – Elisabeth Elliot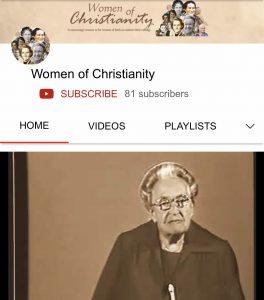 Women of Christianity is now on Youtube! The channel was created this morning, and after it is 30 days old… Continue reading →
We all have to learn that surrender is not the surrender of the external life, but the surrender of the… Continue reading
"Then, leaving her water jar, the woman went back to the town and said to the people, 'Come, see a… Continue reading →
I accepted readily the invitation, as I longed, everywhere to set forth the precious truth of the Lord's return, and… Continue reading →
As I write this, my wife Noël is in Knoxville, Tennessee, where she went to speak to a women's conference.… Continue reading
C.H. Spurgeon Daily Devotional – July 15, Evening
"He appeared first to Mary Magdalene."-Mark 16:9
Jesus "appeared first to… Continue reading →
Hadassah, that is, Esther. Esther ii. 7.
THROUGH this one girl's life God was about to save his people, though… Continue reading →
Original Words by Ada Habershon
New Words and Music by Matt Merker
Performed by Keith and Kristyn Getty
On "Facing A Task Unfinished"
(C) 2016 Getty Music Label, LLC
"But the misfortune is that people wish to direct God instead of resigning themselves to be directed by Him. We wish to take the lead, and to follow in a way of their own selection instead of submissively and passively following where God sees fit to conduct them. And hence it is, that many souls who are called to the enjoyment of God himself and mot merely to the gifts of God, spend all their lives in pursuing and in feeding on little consolations." – Madame Guyon
Copyrighted works are the property of the copyright holders. All works are shown free of charge for educational purposes only in accordance with fair use guidelines. If we have inadvertently included a copyrighted work that the copyright holder does not wish to be displayed, we will remove it within 48 hours upon notification by the owner or the owner's legal representative.