"I banked my life on a miracle." – Jackie Pullinger
St Catherine of Siena (1347-1380)
Pope Gregory XI sent Alfonso of Jaén to Catherine of Siena at Birgitta of Sweden's death. At that point Catherine, who had previously been illiterate, proceeded to write important letters to Popes and Emperors, Kings and Queens and even to the condottiere Sir John Hawkwood, on the need for peace. We do not think of her as part of the Dominican-inspired Friends of God movement across Europe but this act clearly places her in that context. Pope Urban VI wanted her to have Birgitta's daughter, Catherine of Sweden, accompany her to carry out diplomacy on his behalf with Queen Joanna of Naples.
Catherine had been the twenty-fourth child of a Sienese dyer. Everyone had wanted her to marry but she refused, having made a vow of chastity, and instead sought to enter the Dominican Third Order, which only admitted women who were widows. She won. As a Dominican Tertiary she cared for the sick and dying, including criminals condemned to death in Siena. She was surrounded by disciples, one of them an English hermit, William Flete, whose work, The Remedies Against Temptations, Julian quotes and uses in the Showings, another a lawyer Cristofano Di Ganno, who later translated Birgitta's Revelations into exquisite Italian, another a painter, Andrea Vanni, whose delicate portrait of her survives, indeed in the very place of her major visions in San Domenico, Siena. Her confessor and biographer was Raymond of Capua who became head of the Dominican Order. Pope Urban VI leaned heavily upon her for his own survival. Severely anorexic, she died at the age of thirty-three, collapsing under the weight, she said, of the Church.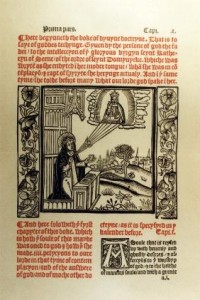 Catherine of Siena, The Orcherd of Syon (Dialogo) , London: Wynken de Worde, 1519
Besides her Letters she had also written, or, again, rather dictated, the Dialogo, the Dialogue between God and his Daughter, Catherine's Soul, in which he tells her that his Son is the bridge between God and man, a bridge that is like a stair, beginning first with the affections, then love, then peace. He adds that his Son's 'divinity is kneaded with the clay of your humanity like one bread'. This work, likely through Cardinal Adam Easton of Norwich who knew all three women, influenced Julian's Showings, her 'Revelations'. A most beautiful manuscript of the Dialogo was translated into Middle English for the Brigittine nuns of Syon Abbey and called the Orcherd of Syon. It was printed by Wynken de Worde, Caxton's successor, again with that title, in 1519. It is illustrated above. Its exemplar may well have been a manuscript Adam gave Julian.
The Dialogo is available on Christian Classics Ethereal Library.
"You can give without loving, but you cannot love without giving." – Amy Carmichael
Copyrighted works are the property of the copyright holders. All works are shown free of charge for educational purposes only in accordance with fair use guidelines. If we have inadvertently included a copyrighted work that the copyright holder does not wish to be displayed, we will remove it within 48 hours upon notification by the owner or the owner's legal representative.