"Where does your security lie? Is God your refuge, your hiding place, your stronghold, your shepherd, your counselor, your friend, your redeemer, your saviour, your guide? If He is, you don't need to search any further for security." – Elisabeth Elliot
Katharina Luther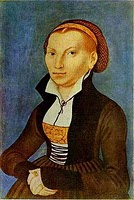 It is said that Martin Luther often called her 'My Lord, Katie'.  🙂 They had six children together. After Luther's death in 1546, Katharina remained in Wittenberg but lived much of the time in poverty. She died in an accident on December 20, 1552, while traveling with her children to Torgau in order to escape the plague.
Biography from History of the Christian Church, Vol VII. Modern Christianity. The German Reformation.
In April, 1523, nine nuns escaped from the convent of Nimptsch near Grimma, fled to Wittenberg, and appealed to Lutherfor protection and aid. Among them was Catharina von Bora, a virgin of noble birth, but poor, fifteen years younger than Luther, not remarkable for beauty or culture, but healthy, strong, frank, intelligent, and high-minded. In looking at the portraits of Dr. and Mrs. Luther in their honeymoon, we must remember that they were painted by Cranach, and not by Raphael or Titian.
Catharina had been attached and almost engaged to a former student of Wittenberg from Nürnberg; but he changed his mind, to her great grief, and married a rich wife (1523). After this Luther arranged a match between her and Dr. Glatz of Orlamünde (who was afterwards deposed); but she refused him, and intimated to Amsdorf, that she would not object to marry him or the Reformer. Amsdorf remained single. Luther at first was afraid of her pride, but changed his mind. On May 4, 1525, he wrote to Dr. Rühel (councilor of Count Albrecht of Mansfeld, and of Cardinal Albrecht of Mainz), that he would, take his Katie to wife before he died, in spite of the Devil." He left his friends ignorant of the secret, deeming it unwise to talk much about such delicate matters. "A man," he said, "must ask God for counsel, and pray, and then act accordingly."
On the evening of June 13, on Tuesday after Trinity Sunday, he invited Bugenhagen, Jonas, Lucas Cranach and wife, and a professor of jurisprudence, Apel (an ex-Dean of the Cathedral of Bamberg, who had himself married a nun), to, his house, and in their presence was joined in matrimony to Catharina von Bora in the name of the Holy Trinity. Bugenhagen performed the ceremony in the customary manner. On the following morning he entertained his friends at breakfast. Justus Jonas reported the marriage to Spalatin through a special messenger. He was affected by it to tears, and saw in it the wonderful hand of God.
On June 27 Luther celebrated his wedding in a more public, yet modest style, by a nuptial feast, and invited his father and mother and his distant friends to "seal and ratify" the union, and to "pronounce the benediction." He mentioned with special satisfaction that he had now fulfilled an old duty to his father, who wished him to marry. The University presented him with a rich silver goblet (now in possession of the University of Greifswald), bearing the inscription: "The honorable University of the electoral town of Wittenberg presents this wedding gift to Doctor Martin Luther and his wife Kethe von Bora." The magistrate provided the pair with a barrel of Eimbeck beer, a small quantity of good wine, and twenty guilders in silver. What is very remarkable, Archbishop Albrecht sent to Katie through Rühel a wedding gift of twenty guilders in gold; Luther declined it for himself, but let Katie have it.
Several wedding-rings of doubtful genuineness have been preserved, especially one which bears the image of the crucified Saviour, and the inscription, "D. Martino Luthero Catharina v. Boren, 13 Jun. 1525." It has been multiplied in 1817 by several copies. They lived together in the old Augustinian convent, which was now empty. He was not much interrupted in his studies, and at the end of the same year he published his violent book against Erasmus, who wondered that marriage had not softened his temper.
The event was a rich theme for slander and gossip. His enemies circulated a slander about a previous breach of the vow of chastity, and predicted that, according to a popular tradition, the ex-monk and ex-nun would give birth to Antichrist. Erasmus contradicts the slander, and remarked that if that tradition was true, there must have been many thousands of antichrists before this. Melanchthon (who had been invited to the feast of the 27th of June, but not to the ceremony of the 13th), in a Greek letter to his friend Camerarius (June 16), expressed the fear that Luther, though he might be ultimately benefited by his marriage, had committed a lamentable act of levity and weakness, and injured his influence at a time when Germany most needed it.
Luther himself felt at first strange and restless in his new relation, but soon recovered. He wrote to Spalatin, June 16, "l have made myself so vile and contemptible forsooth that all the angels, I hope, will laugh, and all the devils weep." A year after he wrote to Stiefel (Aug. 11, 1526): "Catharina, my dear rib, salutes you, and thanks you for your letter. She is, thanks to God, gentle, obedient, compliant in all things, beyond my hopes. I would not exchange my poverty for the wealth of Croesus." He often preached on the trials and duties of married life truthfully and effectively, from practical experience, and with pious gratitude for that holy state which God ordained in paradise, and which Christ honored by his first miracle. He calls matrimony a gift of God, wedlock the sweetest, chastest life, above all celibacy, or else a veritable hell.
2 Responses to Katharina Luther
"There's a big difference between a life that's a performance, and a life that's an offering. One holds us captive. The other sets us free." – Susie Larson
Copyrighted works are the property of the copyright holders. All works are shown free of charge for educational purposes only in accordance with fair use guidelines. If we have inadvertently included a copyrighted work that the copyright holder does not wish to be displayed, we will remove it within 48 hours upon notification by the owner or the owner's legal representative.