"Jesus died as He had lived: praying, forgiving, loving, sacrificing, trusting, quoting Scripture. If I die as I have lived, how will I die?" – Nancy Leigh DeMoss
Hannah Whitall Smith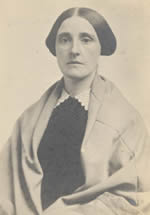 (1832-1911), Quaker Holiness author
Hanna was raised in a strict Quaker home and was given to morbid introspection that found little relief until her marriage to Robert Piersall Smith in 1851. They were both converted under Plymouth Brethren influence in 1858 and in 1867 had a new experience of faith that propelled them on a speaking tour of the United States and Europe. Their "Higher Christian Life" meetings in England were exceedingly popular, partly because of D. L. Moody's success there.
They remained in England due to Robert's declining health and observed the founding of the Keswick Convention in 1874, an outgrowth of their conferences. Trouble followed, however. Robert began to entertain notions of spiritual wifery, was criticized, and eventually claimed to be a Buddhist.
Hannah was the author of the spiritual classic, The Christian's Secret of a Happy Life (1875) and later developed ideas on the final restitution of all things, diverted herself into social causes and writing. She produced The Unselfishness of God and How I Discovered It in 1903. A year later she was stricken with arthritis. Although confined to a wheelchair and in much pain, she maintained an optimistic spiritual outlook until her death.
She had seven children in all, but only three—Mary, Alys Pearsall, and Logan Pearsall—survived to adulthood.
Books by Hannah Whitall Smith
The Unselfishness of God and How I Discovered It; a spiritual autobiograpy (1903)
The Christian's Secret of a Happy Life(1916)
The God of All Comfort and the Secret of His Comforting (1906)
Everyday Religion Or The Common Sense Teaching of the Bible
John M. Whitall, the story of his life (1879)
3 Responses to Hannah Whitall Smith
"The will of God is never exactly what you expect it to be. It may seem to be much worse, but in the end it's going to be a lot better and a lot bigger." – Elisabeth Elliot
Copyrighted works are the property of the copyright holders. All works are shown free of charge for educational purposes only in accordance with fair use guidelines. If we have inadvertently included a copyrighted work that the copyright holder does not wish to be displayed, we will remove it within 48 hours upon notification by the owner or the owner's legal representative.