"One does not surrender a life in an instant. That which is lifelong can only be surrendered in a lifetime." – Elisabeth Elliot
Helen Roseveare
Helen Roseveare was an English missionary to Congo/Zaire in the 20th century. She remained in Africa for over 20 years.
"…We were put off at a house in the jungle–nineteen defenseless women and children surrounded by some seventy-five men, soldiers and others, all filled with hatred and evil intentions toward us…And in my heart was an amazing peace, a realization that I was being highly privileged to be identified with [Christ] in a new way, in the way of Calvary."
"He (God) understood not only my desperate misery but also my awakened desires and mixed up horror of emotional trauma. I knew that Philippians 4:19, "My God will supply every need of yours according to his riches in glory in Christ Jesus," was true on all levels, not just on a hyper-spiritual shelf where I had tried to relegate it….He was actually offering me the inestimable privilege of sharing in some little way in the fellowship of His sufferings."
Upon retirement from the mission field, Helen wrote this..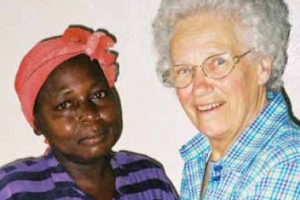 "I suddenly knew with every fibre [sic] of my being that these twenty years had been worth while, very, very worth while, utterly worth while, with no room left for regrets or recrimination.  I have looked back and tried "to count the cost," but I find it all swallowed up in privilege. The cost suddenly seems very small and transient in the greatness and permanence of the privilege.
Now that I have given up everything else—I have found it to be the only way really to know Christ and to experience the mighty power that brought him back to life again, and to find out what it means to suffer and to die with him."
2 Responses to Helen Roseveare
"It takes spiritual authority to bless others. Many Christians say, "God bless you," but one clearly senses that although the words express a kind wish, they lack real spiritual authority." – Basilea Schlink
Copyrighted works are the property of the copyright holders. All works are shown free of charge for educational purposes only in accordance with fair use guidelines. If we have inadvertently included a copyrighted work that the copyright holder does not wish to be displayed, we will remove it within 48 hours upon notification by the owner or the owner's legal representative.