"Prayer means lovingly contemplating the Father, the Son and the Holy Spirit, allowing our hearts to be enkindled to praise and adore the love and omnipotence of the most blessed Trinity." – Basilea Schlink
Testimony of Gladys Aylward (audio)
"A marvelous testimony of God's power through a woman who had committed her life to her Saviour. From the 1930's to 1940's, the Lord led her to face WWII and communism in Northern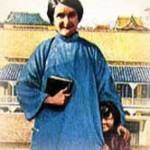 China, where she saved over a 100 orphans. After China fell to the communists, the Lord led her to the islands of Hong Kong and Taiwan, where the love He put in her heart for the Chinese and lost children continued until her death in 1970. Through her stories, she encourages all believers to completely give their entire beings to God and see what He can do with such a life entrusted to Him."
Personally, I love this testimony. She has the simplicity of Corrie ten Boom, and yet expresses her love for the Lord with such fervency and desire.
1 Responses to Testimony of Gladys Aylward (audio)
"Every experience God gives us, every person He puts in our lives is the perfect preparation for the future that only He can see." – Corrie Ten Boom
Copyrighted works are the property of the copyright holders. All works are shown free of charge for educational purposes only in accordance with fair use guidelines. If we have inadvertently included a copyrighted work that the copyright holder does not wish to be displayed, we will remove it within 48 hours upon notification by the owner or the owner's legal representative.