"We say, then, to anyone who is under trial, give Him time to steep the soul in His eternal truth. Go into the open air, look up into the depths of the sky, or out upon the wideness of the sea, or on the strength of the hills that is His also; or, if bound in the body, go forth in the spirit; spirit is not bound. Give Him time and, as surely as dawn follows night, there will break upon the heart a sense of certainty that cannot be shaken." – Amy Carmichael
by BONNIE ALLEN
Four years ago, Katie Davis was homecoming queen at her high school in Brentwood, Tenn. She had… Continue reading →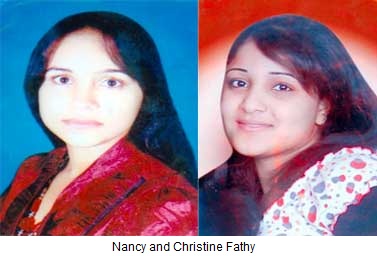 (AINA) — Tension is escalating over the case of 14-year-old Nancy Magdy Fathy, and her 16-year old cousin Christine Ezzat… Continue reading →
The number is shocking.
Massimo Introvigne, a human rights representative for the Organisation for Security and Cooperation in Europe, has… Continue reading →
India Expels Three American Christian  Women for "Proselytizing"
15-Year-Old Girl Is Among the Expelled Christians
Washington, D.C. (June… Continue reading →
"In Eritrea, 3000 Christians are imprisoned because of their faith in Christ. We're helping 15 families in Eritrea – the… Continue reading →
All the eyes are focused on Mariam. Calmly, she teaches on the subject "Shattered Dreams and a New Vision." The… Continue reading →
| | |
| --- | --- |
| | June 3, 2011 International Christian Concern (Washington D.C.)-International Christian Concern (ICC) has learned that Angela Hildenbrand, a valedictorian of Medina… Continue reading |
Mat 5:16  Let your light so shine before men, that they may see your good works, and glorify your…
Continue reading
ICC Note

"Nigerian government authorities were in such a hurry to hide the extent of the massacre that they organized… Continue reading →
| | |
| --- | --- |
| | 5/19/11 North Korea (News24) – An American detained in North Korea for apparent missionary work was severely beaten… Continue reading → |
"Let us ask that the Lord Jesus would so perfectly tune our spirits to the keynote of His exceeding great love, that all our unconscious influence may breathe only of that love, and help all with whom we come in contact to obey the Gospel of our Lord Jesus Christ." – Frances Ridley Havergal
Copyrighted works are the property of the copyright holders. All works are shown free of charge for educational purposes only in accordance with fair use guidelines. If we have inadvertently included a copyrighted work that the copyright holder does not wish to be displayed, we will remove it within 48 hours upon notification by the owner or the owner's legal representative.