"Do not lose yourself in your everyday work and activities. Rather, lose yourself in God. When you are doing work, let your innermost heart be centered on Him. Live in His presence and abide in Him. Then your work will follow you into eternity, and you will reap a rich harvest." – Basilea Schlink
Women of Christianity is now on Youtube!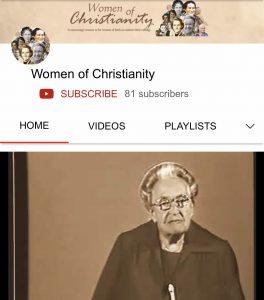 Women of Christianity is now on Youtube! The channel was created this morning, and after it is 30 days old and has 100 subscribers, I can choose a unique URL for the page. So if you are on Youtube, *click here* and go subscribe!
Here is the current featured video:
"Stop reading the Bible like it's just black print on white paper. These women were real." – Janice McBride
Copyrighted works are the property of the copyright holders. All works are shown free of charge for educational purposes only in accordance with fair use guidelines. If we have inadvertently included a copyrighted work that the copyright holder does not wish to be displayed, we will remove it within 48 hours upon notification by the owner or the owner's legal representative.